Low Cost Low Technology Solutions To Getting Traffic

Posted by Dexter Nelson: Thursday, August 9, 2012 (10:29 AM)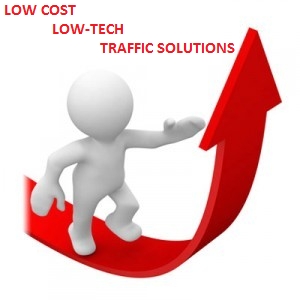 I know this might seem like an odd topic to talk about on an IT-based company, however getting traffic is a universal thing. Personally I wouldn't be able to survive if I weren't able to drive traffic to my site. However when most people think of traffic, I've noticed that more and more often, the questions that get asked isn't so much about strategy, but about software.
"What software do you use?" is quickly becoming one of the most frequently asked questions and as an IT guy I have to say that while I use marketing tools, there is no solution that can replace the hard work. In other words, the most effective software simplifies tasks that you aready do, not replaces what you should be doing.
And no software can replace sound marketing knowledge, and in most cases, is completely useless without any kind of knowledge. You can't just jump into running a business or promoting any type of product or opportunity without, at the very least, *some* marketing know-how.
So in my next few blogs here on TechDex.net, what I'm going to do is share a little about the marketing software that I use personally, as well as share the marketing knowledge so that when you buy or download the software, you know how to use it and get great results.
You Want Low Cost? How About FREE?
Obviously the best software is free software however before we get into that, the best free and low-cost technology for marketing are your hands, the browser and the information in your head. What I'm talking about is the ULTIMATE low-cost technology generating free traffic from free traffic sources.
Most people get hung up on sharing on Facebook and a few other places, however there is a whole world of marketing out there with tons of traffic to be directed to your product or site, and all it takes is about an hour or two a day.
Here are just a few:
Local Business Listings
Social Media Beyond Facebook
Web 2.0-based Sites
Bookmarking
Pinging
RSS Traffic
Building Classifieds
Free Online Classifieds
And more...
In just a couple hours a day you can start to drive massive amounts of traffic from free sources and all you have to do is open a browser, type in a few lines and click submit.
Want To Know How?
I've put together a free online marketing strategy guide that lays out exactly what to do, where to go, and how to post. I like to call it the "Hayne's Manual" of free online marketing strategy.
As it's not really an IT thing, I've launched a new website with testimonials and actual results, including dumps from Google Analytics to show proof fo the traffic that has been driven.
There is NO Sign-up Required. All I ask in return is that you Like, Share or Leave a comment in the comment box on the page. You'll also get a good look at some of the things I'm doing right now to make money aside from TechDex.net!
Click here to download the free guide.