Ventures in Online Marketing

Posted by Dexter Nelson: Sunday, April 10, 2011 (1:59 PM)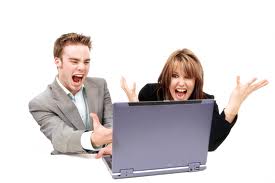 Lately there seems to have been a rush of new internet marketing products and services, and for me, doing my own marketing and being a marketer has felt akin to a person shouting like a madman who's trying to be heard over the din of other madmen yelling about tips, tricks, secrets, systems and methods.
In all honesty I was left to wonder, "just what the heck is all the shouting about anyway?"
Sure, there is a lot of excitement, a lot of hype, and as someone who's spent thousands just to try many of the things out there, some of it works, however...
It's not a complete picture and it's a lot of work that I've learned most people don't really want to do themselves. Those who can't afford the time or money will try to do it themselves, and those who can, outsource.
I had a choice. I could keep trying to shout and be heard, or I can move to a new venture that's outside of the realm of traditional Internet Marketing.
Online Marketing Ventures
Before I get into this I'll be honest with you. This involves work - as in NOT something you can automate, however, you can outsource. It is a bit more time consuming, but you don't have the burden of list building. There are a few more pro vs con scenario's and as I explain they'll become evident.
But first, there are a few things you should realize if you're an Internet Marketer.
Internet marketing in general tends to be a "shared" market. When I started swapping lists with others for joint ventures, etc. I found that many of the people on my lists were already on theirs, theirs were on mine, and the more partners I involved we found the same thing.
So effectively, we were trying to sell and resell to the same group of people. There's nothing wrong with that, however it does become harder and harder to sell to that market after some time, and the only solutions are to get into media buying or come up with a new gimmick to prompt a person to buy.
I was in the market to do something new, basically looking for new online marketing ventures, when I was contacted by an email marketing company that had a problem.
They needed my services for their own business and the entrepreneur in me kicked in, and my first question was, "and what about your customers?"
That led to a one hour conversation that turned into a very profitable partnership.
By now you can probably see where this is going - fulfillment as a service.
Fulfillment As A Service
I wont' drag out this out any longer than it needs to be, but I stumbled unto a new way to expand my business. It's not original in any way, shape, or form, but as far as I can tell, it's never been done this way for the online marketing industry.
Most businesses will deal with other businesses, some will send referrals, but very, very few of them will actively promote your business to their customers without wanting to be paid for it. In short, fulfillment done correctly equals more business.
Remember this if you can. "Selling the END RESULT makes more money, than selling the method."
Everyone is aware that people want things faster, easier, cheaper, etc. so most marketing strategies tend to focus on the benefits and advertise why a product or service is great, what it can do for you, why you should buy it, etc. for that very reason.
What you have to understand it that companies that already have the money, don't want to hassle with hours of doing the work, hiring employees, paying benefits and all of the other headaches of doing it themselves. They have the money, so they would rather outsource. That and if people can get the end result without the headache in the middle, they will go the easiest route.
So this is how fulfillment works, (a very simple formula).
I position myself so that companies can offer a bonus incentive to boost their sales, upsell to their existing customers, and provide a higher quality of service, and I get paid for it.
How does that work?
Let's say that you're market is article marketing. I would come in and fulfill the actual service to you and your business. We would then negotiate a deal where you pay for the services at a very low cost, (or for free), and you can offer a bonus incentive by including my services to your customers and include it in your marketing.
What comes out of the deal is that you get a better service offer and use of the service itself, and I get access to your market and customer base.
You'll find that this only works with complimentary services to your own, however a lot of companies are looking to find more ways to gain or keep their competitive edge, and this method gives them two advantages.
First they save money on services they'd have to pay hundreds or thousands of dollars for, and second, they will have a superior service to offer to new clients, as well as an offer to bring back old customers, and upsell to new customers.
Those two bonuses will quickly become your selling point to approach different companies. In fact, the best way I've found, (to put some beans out there), is to separate your services to each thing you do, then look for companies that only do parts of your service and offer them the rest to make their service more complete and then you fulfill the tasks.
I've managed to partner with a few companies and while I'm not the "show you my PayPal" balance kind of person, I have increased my income by a very large percent.
Right now it's more time consuming than running campaigns and doing product launches, but once I get everything worked out into a system, I'll outsource the work.
The List
I am in the process of building a list of companies that are favorable to this kind of deal, and will organize them by market or niche. Furthermore, if anyone is interested in having the research done to find the best market(s) for their business, then simply leave a comment.
Traffic Pack And My Cheap Plug
Yes, I know. I wouldn't be much of a business man if I didn't get in a cheap plug wherever I can...
Recently I started putting together a new service called the Live Minder Traffic Pack, and in a nutshell, the goal is to get you as much traffic as possible, in the least amount of time as possible, and it combines several online marketing strategies into one.
For more information, please visit http://www.mindyourowndata.com/trafficpack/.
Thanks for reading!
Dexter